Thai AirAsia X Flies Direct and Daily Don Mueang-Nagoya Affirming wider network across Japan Promotional Fares Start at Only THB 2,990*
Bangkok–26 Jul–AirAsia
Thai AirAsia X continues the expansion of its network in Japan by adding direct flights from Bangkok (Don Mueang) to Nagoya, a city of culture in the heart of Japan and the capital of Aichi prefecture in the Chubu region. Flights begin this 30 October 2018 with promotional fares starting at only THB 2,990* one way. Book between 27 July and 5 August 2018 for travel from 30 October 2018 – 30 March 2019 at www.airasia.com. AirAsia BIG Loyalty members get the privilege of priority booking today from 13.00 hrs – 22.59 hrs.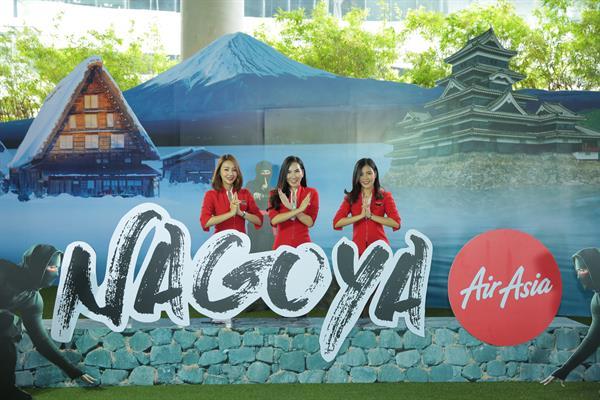 Mr. Nadda Buranasiri, Chief Executive Officer of Thai AirAsia X, said Thai AirAsia X (flight code XJ) continues to be the low-cost long-haul carrier with the largest coverage of destinations in Japan with Nagoya to be the airline's fourth destination in the country after Tokyo, Osaka, and Sapporo which was introduced this past April. The airline is confident Don Mueang – Nagoya will prove as popular as the other routes due to the diversity of its tourist destinations and its role as a gateway to central Japan. The new flight addition enhances Thai AirAsia X's network of destinations across Japan and allows even more flexibility for travellers who will be able to land in Nagoya and return to Bangkok from Sapporo or land in Tokyo and choose to return from Nagoya.
"Thai AirAsia X is proud to be the first low-cost carrier to offer daily direct flights from Don Mueang – Nagoya and is confident it will be well received as a business, industry and tourism link between Thailand and Japan because Nagoya is an industrial centre and home to many top Japanese companies. We also plan to work with AirAsia Japan to encourage Japanese travellers to use the route to travel to Bangkok where Thai AirAsia offers connections to all of its domestic regions. This will help stimulate the economy and create new opportunities for the country," Mr. Nadda said.
Mr. Hideaki Ohmura, Governor of Aichi prefecture, said, "I sincerely welcome the launch of Thai AirAsia X's Bangkok route. This will be the first LCC route to Bangkok, and this means Chubu Centrair International Airport will be connected with Asia's largest network of AirAsia. With this, I expect that various exchanges such as business and tourism with Asian regions will be further deepened for both Thailand and Central Japan area."
Mr. Takashi Kawamura, Mayor of Nagoya city, said, "Congratulations on the launch of Thai AirAsia X. Nagoya and Thailand have historical ties, and I greatly expect that the exchanges between the two areas will become much more active. I'm looking forward to AirAsia's growth as 'an airline of our city'."
Nagoya of Aichi prefecture is well known for its culinary culture with its most distinct dish being Nagoya Meshi, a composite of Hitsumabushi (grilled eel on rice), Miso Katsu (fried pork) and other local delicacies. The city is home to ancient architectural treasures such as Nagoya Castle as well as contemporary marvels like Oasis 21 and Nagoya TV Tower. A centre of natural tourism with a unique local culture, Nagoya is also a gateway to other popular tourist destinations and offers plentiful and convenient transportation options to renowned locations such as the UNESCO-heritage village of Shirakawago, the ninja town of Iga, the historical city of Takayama, Shizuoka prefecture and the Snow Wall of Tateyama Kurobe.
For AirAsia, Nagoya is an important strategic location and is one of AirAsia Japan's flight bases, from which it operates 3 daily flights from Nagoya to Sapporo. Thai AirAsia X currently flies from Bangkok (Don Mueang Airport) direct to Seoul, South Korea 2 times a day; Tokyo 3 times a day; Osaka 2 times a day; Sapporo 1 time a day and Shanghai, China 1 time a day. The carrier plans to add another 3 Airbus A330 aircraft within 2018, taking its fleet to a total 10 aircraft in anticipation of further growth.
Thai AirAsia X is introducing the flight at a promotional fare starting at only THB 2,990* one way, available for booking from 27 July – 5 August 2018 for travel from 30 October 2018 – 30 March 2019 at www.airasia.com and all ticketing channels. Passengers can follow updates, promotions and activities at AirAsia's Facebook (facebook.com/AirAsia) and Twitter (twitter.com/AirAsia).
AirAsiaGo.com is also offering a promotion on travel to Nagoya. Book a 4-day 3-night stay inclusive of Hotel + Flight + Tax from only THB 9,990/person. Book 26 July – 5 August 2018 for travel from 30 October 2018 – 30 March 2019. Get a further 12% off hotel bookings with the promo code "HOTEL12" when booking today until 30 September 2018 for travel from today – 31 December, 2018.
*One-way all-in fare inclusive of only taxes and fees, but excluding auxiliary service charges and credit, debit and charge card payment processing fees. Airline terms and conditions apply.
Flight Schedule for Bangkok (DMK) – Nagoya, Japan (NGO) (As of 26 July, 2018)
Flight   From   To   Departure   Arrival     Frequency
XJ638   DMK   NGO   06.55 hrs.   14.20 hrs.   Daily
XJ639   NGO   DMK   16.30 hrs.   21.10 hrs.   Daily
Notice: All times are local unless otherwise stated.
ข้อมูลมาจาก http://www.newswit.com